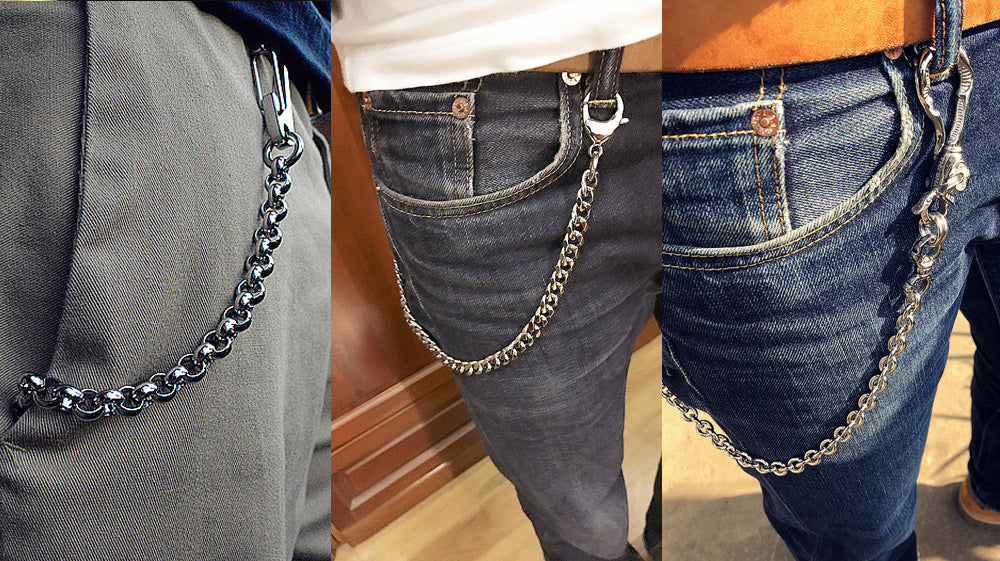 Wallet chains
are usually long. Each chain is different in style and function. It can come with a hook, a clasp or a keyring on both ends. Traditionally, it is worn to hold or fasten one's wallet securely to a belt. However, nowadays, it could also be an additional accessory to anyone's wear or outfit, simply by decoratively hanging it onto jeans, bags or purses.
Wallet chains come in different styles and designs. It is assorted in colors to match everyone's taste. The most common style is the single wallet chain. Now there are also double wallet chains and triple wallet chains. Chains are also distinguishable through its color. The most usual color of wallet chains is silver. Gold and black wallet chains are also getting popular and familiar these days. Each design is different from the other to suit everyone's preference. Wallet chains can be minimal and grand. There are chains with skull, dragon, snake or wolf embellishment. Others are inspired by bikers and rockers. The materials are usually stainless steel. Currently, there are wallet chains that are made of brass, alloy and cowhide as well.
Wallet chains have limited functions, but they're incredibly helpful to people who like to travel with convenience. The main purpose of wallet chains is to guarantee people that they will never lose their wallet anywhere they go. This assures everyone that their
wallet
won't slip out whenever they are on an adventure like walking , driving or riding at a high speed. Definitely, this kind of chain keeps your wallet from being stolen or lost.
If you want to achieve a domineering yet pleasing look, then a wallet chain is exactly what you need. Adding one to your style will make you more sophisticated to look at. It is more astonishingly attractive when matched to an all-black outfit or wear. Surely, you'll be turning heads with intimidation. Long ago, bikers used this kind of dangling chains to catch the eye of many leather and metal punks and enthusiasts. Wallets were not really necessary during that time. They accessorized their outfit with massive, jiggling chains to make their style complete. Since then, wearing a metal chain has become an independent accessory not just for bikers or alike, but for everyone who loves fashion.
In this blog, you will absolutely find unique wallet chains that suit your taste and preference! This accessory can take your fashion to a whole new level. It can turn anyone's dull outfit to a breathtaking one!
Let's get started!
This stainless steel is so fashionable in many ways. It looks good when connected to a wallet. Its silver emblazonment, adorned with looped chains, a lobster lock and round keyring, just made it more elegant to wear that you could actually wear it in any occasions. Its measurement comes in two custom length- 35cm and 45cm which just fits the size of a wallet and/or jeans. This chain looks suitable for someone who is edgy, rocky or simply casual. This would definitely match everyone's taste! It is also useful as it holds your wallet securely in place. You can also add it to your bag or purse's styling. It works in both ways and is really good-looking to have one as an accessory.
- This wallet chain is genuinely made of silver stainless steel that comes with three different length- 45cm, 50cm and 55cm. It has lobster clasps on both ends which tightly clips around belt loops and a wallet zipper. The chain is designed in cool flat chains that look good in the eyes. This biker wallet chain surely adds an edgy taste in anyone's wear and accessories. It will surely complete your style and fashion. Not only that, it will also secure your wallet wherever you desire to go. It is designed to make you feel safe and look trendy at the same time. The design is very flexible as you can wear it both in casual day-to-day or edgy styling. You won't have problems losing your wallet as it is securely placed and clasped to the chain. Surely, this would match your taste in a fashionable and secure way.
- This cool wallet chain is made of silver stainless steel which adds more elegance to the item. It comes in two styles which differ in a fashionable way. It came from genuine materials that's why durability may last a lifetime. The first design comes with a unique hook and a round clasp on the other end. If you want to look less edgy, this one definitely suits your taste. However, if you are someone who is into rock and rugged style, then the second design that comes with a skull hook fits you better. The length of the item is 52 cm. It's not only modern and stylish, but it's also efficient in securing your wallet anywhere you go. This chain is designed mainly to make sure that your most important belonging is always safe in a pocket- your wallet. It comes in TWO- fashion and security.
- This brass keychain wallet is made of authentic materials that assures the item's resilience. It is 65cm in length and comes with an intimidating yet very unique design. Its hooks and chain are both adorned with skulls and skeletal hands. The designer calls this wallet chain "god hands"as it showcases power and strength in terms of its quality. If you are a person who has a unique taste in fashion and accessories, then you should try adding this incredible wallet chain on your list and to your wear. This would definitely take your style in a new level and more attractive trend.
- This minimalist style of wallet chain is suitable for people who like to keep their accessory simple and elegant at the same time. The color which is a mixture of brass and gold adds sophistication to any kind of wear. Its measurement comes in different length- 40cm, 45cm, 50cm and 55cm. The hook is designed ordinarily. However, the lobster clasp makes it more graceful to look at. Since it is authentic, the longevity of the item is an assurance. This wallet chain would make your style more smart and fashionable in many ways as the saying goes "Simplicity is beauty."
 This metal wallet chain is created with authentic brass materials. The color says it all with a slight shade of gold. Its vintage look adds elegance to the accessory and to any kind of wear it will be paired with. It is 62cm in length and is adorned with feather charms. The hook comes in two different designs: the U-hook and the dragon hook. A U-hook is minimal and showcases simplicity while a dragon hook indicates sophistication and distinction because of its unique design. This chain is a must to your accessory list not just because of its fashionable look, but because of its objective to secure your wallet and never lose it wherever you  may go.
- This brass chain is uniquely enhanced with gold color. The desire to make it look vintage is easily achieved because of its design. The length measures 50cm. It comes with an exquisite skull hook and single eye skull key ring. This chain wallet is modish and at the same time, old-fashioned looking. The main feature of this chain is to secure your wallet anywhere you go with the objective of making your wear fashionable as well.The body is made of quality flat chains that surely last for the longest.This accessory is worth a try and a must to your edgy look and wear!
- This handmade wallet chain is definitely for you if you're achieving vintage looks in these modern days. It comes with brass color which makes it more stylish. It is 45cm long and is adorned with feather charms. The dragon hook is partnered with a U-hook on the other end. The chain itself is braided that assures its durability and longevity. If you want to go anywhere safely and fashionably, then this wallet chain is a must accessory to your wear. It will surely secure your wallet wherever you want to go. Definitely, this chain is a modishly useful collection!
- This stainless steel chain would definitely anyone's attention because of its elegance and beauty. It comes in four styles. The first design is adorned gracefully with feather charms. It also has two-toned colors- silver and gold. Other designs are decorated with a skull hook paired with a horseshoe ring or a lobster clasp of your choice. It measures 52cm in length. The chain is joined with round loops which can't easily be broken. It really guarantees durability and great quality. Your wallet is secure with this chain without a doubt. It features safety and fashion at the same time.
- This leather wallet chain is handmade and comes in braided design which makes it durable and lasting. It's also styled with three different colors- brown, coffee and black. It is decorated with carp-tooled leather belt loop. The carp comes in two different colors depending on your choice- yellow and green. Its clasp is made of brass. It measures 60cm as a whole.This wallet chain surely secures your wallet anywhere you go. No need to worry anymore about losing it. This chain got it for you and will definitely assure you that your wallet is always in place and safe.  
- This cool black chain is furbished with good materials and authentic metal. It surely is a great addition to your wear. If you are aiming that kind of minimalist punk style, then this wallet chain is the right accessory for you. The length measures 84cm. It comes with a lobster clasp and a round keyring on the other end. The design is minimal yet it adds elegance to any kind of jeans or wallet. It is both stylish and modish. It is wearable in any kind of occasion. It can be worn on casual days as well. Security-wise, your wallet is always safe with this chain.
-This brass wallet chain is made of genuine stainless steel. Due to its color which is gold, it is so stylish and edgy at the same time. It is unique in design as it is adorned with node skulls chain. It measures 58cm in length and comes with a lobster clasp and a normal hook on the end. It looks amazing when paired with any kind of jeans. It looks modish. Because it's made of authentic materials, durability is an assurance. It can last for the longest. When it comes to security, your wallet will be safe anywhere you go.
- This vintage-looking wallet chain is so unique in many ways. From its design and structure, every tiny bit of this accessory will really surprise you. The color looks amazing as it is furbished with brass and gold shade. Its length comes in different measurement- 45cm, 50cm and 55cm. The chain is flat and is made of authentic stainless steel. Because of its materials, its longevity and durability is a 100% sure. It has an awesome skull clasp. The hook is also decorated with a skull. Thus, this wallet chain is consistently uniform in design and decorations. In addition, it will make your wallet surely secure because of its efficient clasp and hook.
- This cool brass wallet chain is looking eccentric and distinctive from the usual wallet chains you've ever seen or used. It is remarkable for its hook design which comes in three different styles. The first one is a skull hook. The second is a U-hook, and the last one is a dragon hook. All of these are paired with a horseshoe clasp on the other end. The length of chain as a whole is 35cm long. The color is gold and is really modish. It's really pleasing as an accessory, but will also assure that your wallet is a safe and secure while you wear it or add it to your jeans.
- This leather wallet chain is noteworthy so make sure add this to your list. It is long lasting and durable as it is styled with handmade braided leather.The chain itself is black paired with a silver clasp and hook. Its length measures 61cm long. It is fashionable to wear in any kind of occasions or wherever you may go. No need to worry about the security of your wallet as this chain does it for you. The main function of this wallet chain is to make sure that your purse is safe in your pockets while you travel. It's not only a fashionable accessory to your wear, but it is also a useful one!
- This brass wallet chain that is furbished with gold color which truly represents elegance and eccentricity. The hook design is so unique; it comes with a cobra snake's head. The chain as a whole measures 45cm in length and is paired with a lobster clasp. Thus, you can be 100% sure that your wallet is safe and secure wherever you go. The chain is braided mechanically which assures durability and longevity of such accessory. It's worthy to be an additional style to your wear. It is modish and useful in terms of quality and fashion. A unique and beautiful item like this is a must to your style!
There you go! You've just had a glimpse of our Top 17 Cool Men's Biker Wallet Chains. We do hope that you had fun browsing all of them. Have you found the chain that suits you best? If you haven't. check out the link below as we still have more wallet chains to offer, and for you to find out! Thank you very much for taking some time to read!